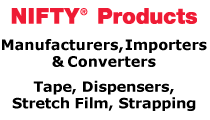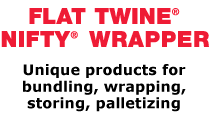 T3761RTL
NIFTY Hand Tear Tape
Serrated edges allow for
hand tearing
Heavy-duty tape with
strong adhesive
No dispenser, no scissors,
no cutting
BOPP (Polypropylene tape)
Tough, impact resistant
Acrylic adhesive – reliable
performance in all temperatures, superior quick stick and fiber tear, resistance to aging, weathering, U.V. light and yellowing
Size: 2" x 55 yds
Thickness: 3.2 mil
Color: clear
Case Pack: 36 rolls/case
Go to B&W JPEG Image
N/A
The image to the left is available to use for your project. Simply right-click on the image, select "Save Picture As...", and choose where you want it saved.
Click here for other download options.
©2008 Nifty Products, 4 Jocama Boulevard, Old Bridge, NJ 08857. All Rights Reserved.