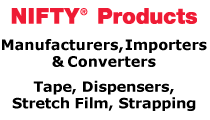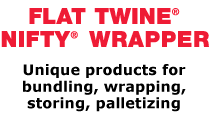 ONE STOP SHOP
No need to go to multiple vendors or spend precious time searching the Internet
Find it at Nifty:

Stretch Film
Commodity
Specialty
Dispensers
Hand Held
Specialty
Tape
Heavy Duty
Ultra-Clear
Strapping
Poly
Steel



UNIQUE PRODUCT
Nifty Hand Tear Tape
T3761RTL

2 inch x 55 yd
3.2 mil thick – strong!
Aggressive adhesive
Most Important Features:
Serrated edge for easy tearing
No dispenser, no scissors, no knife
Easy to tear the size you need with
no loss of integrity in hold
Use indoor or outdoor – will not decay
like cloth tapes
©2023 Nifty Products, 4 Jocama Boulevard, Old Bridge, NJ 08857. All Rights Reserved.
---
Website design by

SPOTLIGHT PRODUCT
Pallet Wrap Dispenser
DASW-EZ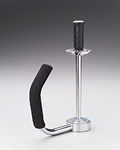 Easy to load
Comfortable Grip Handle
Mini-base for stability
Portable
Fits stretch film sizes:
12 inch- 18 inch
On 3 inch core

Nifty Products continues to be your one-stop vendor for shipping supplies. Low minimum orders, quick turnaround anywhere in the U.S., drop ship capability, in stock merchandise, and excellent customer service. In addition to our unique Flat Twine, Nifty Wrapper, and Nifty Hand Tear Tape specialty products, we offer a wide range of commodity and standard products to meet your customers' needs.